Discover the joy of gathering around a multi-functional chess board table, the heart of every home where laughter echoes and friendships deepen. In this vibrant, welcoming space, board games take center stage, fostering strategies, alliances, and friendly rivalries. It's the perfect addition to any home where fun and camaraderie are cherished.
These aren't just tables; they are the epicenter of joy, camaraderie, and countless cherished moments. Designed to be much more than a mere piece of furniture, these tables serve as the canvas for a myriad of board games that beckon friends and family to gather around and play. From intense chess matches to lively rounds of backgammon and dominoes, these tables are your gateway to endless fun and bonding.
In this post, we've curated a list of the finest board game and chess board tables available, each promising not only functionality but also a touch of elegance to your gaming sessions. These tables are not just a purchase; they are an investment in laughter, joy, and countless memorable moments.
So, gather your friends, pick your favorite games, and get ready to explore our handpicked selection of chess board tables that promise to transform your gaming experiences into cherished memories. Let's embark on this journey of discovery together, where fun meets style and every game is an occasion to remember!
Chess Board Tables
1. Hey! Play! Wood 3 in 1 Backgammon Chess Board Table
This 3 in 1 Chess Table provides the versatility of a gaming table as well as the functionality of a beautiful end table.
Veneered Table, Chess Board Table: 12.5″ x 12.5″, chess pieces included
King Height: 3″, Backgammon Game Board (Game Pieces NOT Included)
Drawer for Chess Piece Storage
Dimensions: 19″ x 19″ x 19.375″

2. GSE Wooden 3-in-1 Chess Checkers Backgammon Table
This 3-in-1 chess, checkers, and backgammon game table is made of durable hardwood, ensuring your table will last for a long time. 
The table dimensions when fully assembled are, 28.5" tall with the tabletop being 18″ x 18″. The playing surface in the center of the table is 14.5″ x 14.5″. Inlaid chess/checkers board dimensions 1.5 inch squares.
Included: There is a large storage area under the playing surface, the checkers and chess set includes a game table, a complete set of 32 chess pieces, 30 pieces for backgammon/checkers game pieces, two brown wooden dice cups, two pairs of dice, a doubling cube, and all of the game instructions.
Natural wood and dark brown wood chess pieces. King height: 3.5 inch, base diameter 1.25 inch. Queen height: 3.25 inch, base diameter 1.25 inch. Pawn height: 1.75 inch, base diameter 1.1 inch. Natural wood and dark brown wood backgammon/checkers pieces with finger touch, dimensions 1 inch in diameter.
The chess tabletop is reversible with the chess and checkers board on one side and the backgammon board on the other side. Storage for all the pieces is underneath the tabletop.

3. Frenchi Furniture Checkers & Chess Board Table
Assembly required!
Item Dimensions : 27.6L x 22.1W x 22.1H inches. Material : Wood.
Traditional styling
Two working drawers
Some Assembly Required
Dark Cherry Color
27.58 x 22.06 x 22.06 inches

4. Design Toscano Walpole Manor Chess Board Table
At Design Toscano, the country's premier source for historical replicas, they pride themselves on attention to detail by traveling directly to the source. Over 90% of their offerings are exclusive to the Design Toscano brand, which allows them to present distinctive decorative items unavailable elsewhere.
Using kiln dried woods, Toscana craftsmen combine these timbers with both old world and modern techniques to create exquisite pieces of furniture.
Each piece is individually hand-finished by Design Toscana artisans
Dimensions: 20.5″D x 20.6″W x 26″H

5. ACME Furniture Acme Bishop Chess Board Table
Square Game Table: This game table is not only a stylish addition to your living space but also offers a perfect surface for a variety of board games, making game nights more enjoyable.
Two Drawers: Equipped with two drawers, this table allows you to conveniently store game pieces, ensuring that everything you need for a fun game night is within arm's reach.
Reversible Game Board: The table features a reversible game board with designated spaces for both checkers and backgammon, allowing for seamless transitions between two classic games without the need for additional equipment.
Wooden Square Top with Apron and Drawer: The wooden square top, adorned with a decorative apron and integrated drawer, combines functionality with elegance, offering a sophisticated touch to your gaming experience.
Wooden Pedestal Base: The sturdy wooden pedestal base not only provides stability to the table but also adds a touch of classic elegance, making it a timeless piece that complements any home décor.

6. LITTLE TREE Rustic Wood Round End Chess Board Table, Coffee Accent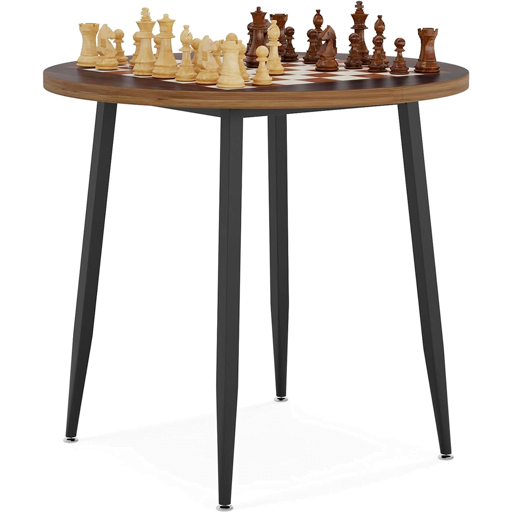 Not only is this table ideal for playing chess and cards, but it also serves as a versatile piece for dining or as a coffee table. Perfect for small apartments, it provides enough space for playing games or displaying items.
Easy Installation: The chess table includes detailed step-by-step instructions and all the necessary accessories. Users of all levels will find it convenient to assemble, as no special tools or skills are required.
This board game table has 4 tapered iron legs with adjustable foot pads. This feature allows for better stability on any surface and prevents serious floor wear. With a weight capacity of up to 150 lbs, it is reliable for long-lasting use.
Dimensions: 31.5″D x 31.5″W x 29.5″H
Chess or any Game pieces not included

1. Lightweight Square Folding Mahjong, Cards, Dominoes Table
Versatility:this is the table for card,mahjong,domino,board,dice,and tile games.
This lightweight folding table has a heavy-duty steel frame and steel legs so it can withstand everyday wear and tear.
Green nylon mesh cover tabletop for playing Poker / Dominoes / Card / Paigow / Chinese Chess / Mahjong Game.
To enhance the user experience, we designed the mahjong table to be portable.
Green high-quality fiber tablecloths, intimate ashtray design, hidden 4 drawers, and more,Everything is to improve the user's entertainment experience.

2. STAKMORE Straight Edge Square Folding Card and Games Table
Perfect for hosting card games or serving refreshments at small parties
Premium solid wood construction
No assembly required
Folds to 3.375" deep for storage
Square top with a classic straight edge design. Weight Capacity-150 pounds
Colors may slightly vary.

3. Flash Furniture Silas Folding Square 4-Player Card Game Table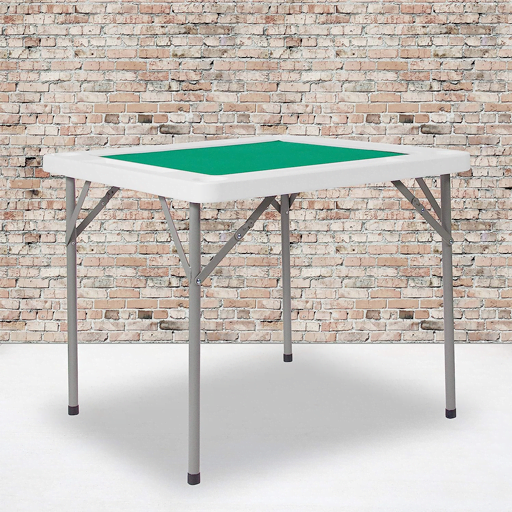 Whether you're hosting poker night with friends or epic board game tournament with the family this folding game table has you covered.
Green felt surface with card placement with lip
Gray powder coated locking legs hold up to 220 lb. static load capacity
Folding game table
Overall Size: 34.5″W x 34.5″D x 29″H
No Assembly Required!

4. Bene Casa Blow Mold Domino Game Table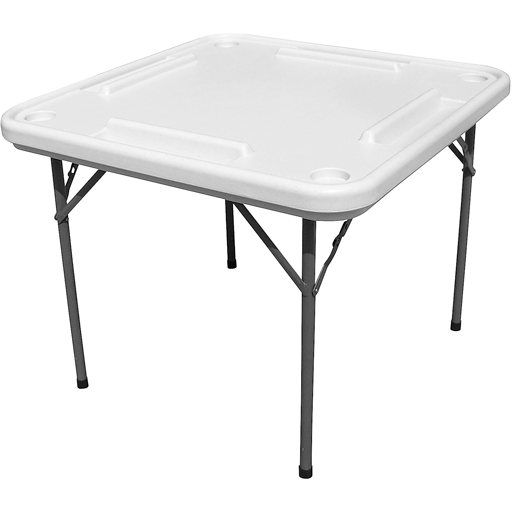 Folding metal legs for easy storage. Durable and lightweight. Easy to carry
Built in cup holders and tile/card holders at each players space
Wipe down with a wet cloth to clean
Great way to enjoy family game night
This table is perfect for scrabble, mahjong, board games, card games, and dominoes of course!

5. Bene Casa Classics Plastic Domino & Game Table
It is light weight and durable
The built in drink holder and tile racks
It is Ideal for indoor and outdoor use
It has removable legs
It is very easy for storage

6. Arcade 1Up 32″ Screen Infinity Game Table
Dynamic Zoom Viewing provides personalized perspective for each player.; Tactile Feedback to add levels of immersion.
Hi-Resolution Screen that adds next-level realistic depth and texture to all games.; Social Play+. Connect to other players worldwide, with Safe Connect that allows up to six players.
Jigsaw Puzzles. Select the number of pieces based on skill level.; Digital Coloring Books and Comic Books also available
Allows players to save the game and pick back up later where they left off.

---
Affiliate Disclosure
Some of the links on Chesspert.com are affiliate links. This means that we may earn a small commission if you click through and make a purchase, at no additional cost to you. Please note that our product reviews and roundups are independent, and the affiliate relationships do not influence our content in any way.
Chesspert.com is a participant in the Amazon Services LLC Associates Program, an affiliate advertising program designed to provide a means for sites to earn advertising fees by advertising and linking to Amazon.com.
Chesspert.com is also a participant in the GammonVillage Inc. Affiliate Program, an affiliate advertising program designed to provide a means for sites to earn advertising fees by advertising and linking to GammonVillage.com.
Amazon and the Amazon logo are trademarks of Amazon.com, Inc. or its affiliates. GammonVillage is a trademark of GammonVillage Inc. or its affiliates.
---
Our passion for board games extends far beyond the chess table. We'll be your trusted companion, on a journey through the enchanting realms of not only chess but also backgammon, dominoes, mahjong, checkers, and a diverse array of other captivating board games.
Whether you're in search of the ideal chess set, luxury backgammon sets on sale, a chinese checkers set, a checkers set, or if you're seeking the excitement of a thrilling game of mahjong solitaire, we'll guide you along the way.
In partnership with our affiliates, we bring you an extensive selection of board games and past times to explore and enjoy.
Still not enough? Then unwind and relax with a unique jigsaw puzzle on a cleared flat surface, or jigsaw table top. Our platform serves as a dynamic hub where curiosity converges with expertise, and entertainment merges with strategy.
Dive into our extensive collection of guides and reviews, and unlock the joy and exhilaration that board games offer. From exquisitely crafted game pieces to the essential accessories that elevate your gaming experience, we're here to guide you through it all with ease and delight.
Join us in celebrating the timeless allure and camaraderie that these games nurture, one post at a time!