Dominoes, a game cherished across generations, has a simple charm that never seems to fade. Whether it's a casual game night with friends or a lazy Sunday afternoon with family, a good set of dominoes promises laughter, strategy, and a bit of friendly competition.
In this post, we've put together a list of some of the best dominoes sets available right now. Our goal is to help you find a set that feels just right in your hands, looks great on your table, and can withstand countless games. From classic designs to modern twists, we've got something here for everyone.
So, let's get started. We invite you to explore our curated selection, where you might just find the perfect set to grace your next game night. Happy gaming!
1. Traditions Cardinal's Mexican Train Dominoes Set Tile Board Game
This set of double 12 dominoes comes in a sleek, stylish aluminum carry case and has everything you need to play. The sturdy aluminum case makes it easy and safe to transport.
Just take the game out of the box, read the easy-to-follow instructions and CHOO-CHOO! You're off on an exciting trip to play Mexican Train Dominoes! Recommended for 2-8 players, ages 8 and up.
Includes: 91 Dominoes, 9 Trains, Scorepad, Instructions, Aluminum Carrying Case

2. Front Porch Classics Domino Set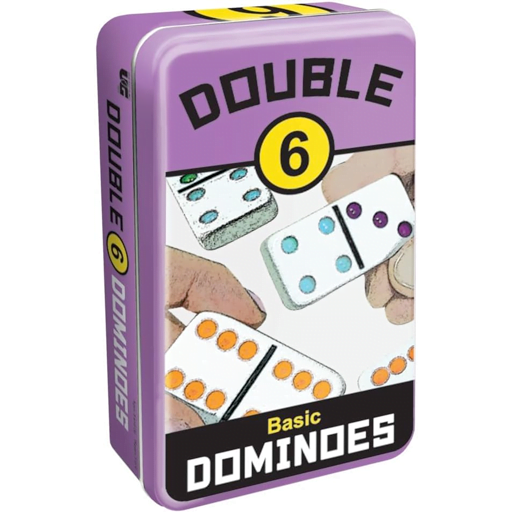 This Basic Set is a great introductory domino set for the whole crew! The perfect addition to any game night and your collection of classic games. Double 6 Dominoes have a timeless appeal that has entertained the young and young-at-heart for generations. The University Games Domino Collection: offers a full line of dominoes. Perfect for all playing levels, from the novice to the professional, these dominoes are top- ranked for quality and durability.
Includes: 28 domino tiles and Instructions for 10 family friendly games such as Chickenfoot, Muggins, 42 Moon and Castle Rock.
Made of high quality materials, each domino is painted with brightly colored pips and has a smooth surface with rounded corners giving it the perfect weight and balance in your hand. The large dots feature make tiles easy to read.
The reusable tin case allows for easy storage and great for on-the-go fun.

3. Cardinal Classics Double Nine Dominoes Set
This set comes with bright color-dot dominoes, allowing for easier gameplay for kids and people with vision issues. Comes with instructions for different gameplay variations.
This set of Double-Nine Dominoes teaches kids simple matching and math skills. Perfect game for beginners, experts, and the whole family! Recommended for 2-6 players, for adults and games for kids 8-12.
Includes: Starter Piece, 55 Dominoes, Storage Tin, Instructions.

4. Queensell Dominoes Double Six Set
Dominoes double 6 for 2-4 players is a tiles game that provides fun for the entire family board game!
The dominos set double 6 features durable and sturdy tiles with indented and well-painted dots that won't fade any time soon so you can use them for years to come. Every double six dominoes tiles dot has high-quality eco paint.
The ideal weight and balance of each of our professional domino set ensures they are built for long-lasting fun family games! They measure 0.35 in x 1 x 2 inches (9 x 25.4 x 51 mm)
Each double six standard dominos tiles contains a metal spinner rivet in the center, adding a stylish vintage look and making them easier for players to turn and spin
With this carrying brown wood case, our ivory dominoes set can be played domino game both indoors and outdoors.

5. Regal Games Double 6 Dominoes Colored Dots Set
This Regal Games Dominoes set comes with 28 double six, colored dot dominoes and a fun Collector's Tin.
Every domino in the set is decorated with high-quality color ink dots that are non-toxic and eco-friendly.
The reusable collector's tin protects the dominoes, providing a durable and organized case that can be easily stored away and taken on the go.
Great to play with 2-4 kids or adults at once. We recommend it for ages 8 and up.

6. Queensell Double Nine Adult Dominoes Set
Double 9 dominoes set is a classic table dominos sets that provides fun for the entire family and friends, perfect Toy for Boys and Girls! Great for holiday gatherings, travel, and camping, this set makes a great gift. Great for Mexican Train, Chickenfoot, and other dominos tiles game.
The dominoes double 9 features durable and sturdy tiles with indented and well-painted dots that won't fade any time soon to provide you with long-term use. Dots on each of 55 tiles are made with high-quality, eco paint.
The ideal weight and balance of each of double nine dominoes set ensures they are built for long-lasting fun! Each tile measures 0.35 inches x 1 inch x 2 inches (9mm x 25.4mm x 51mm) for the perfect size and balance. Each ivory 55 tile dominoes stylish vintage look.

7. Spinner Double 9 Plus 11 Wild Spinner Dominoes Set
The original Texas wild domino game!
Spinner is a fantastic, fun combination of the world's best domino games
A dynamic Double 9 domino game with 11 wild Spinner dominoes
Stored in a colorful, durable tin, convenient for home or travel
For 2-8 players, ages 6 and up

8. Front Porch Classics Mexican Train Dominoes Set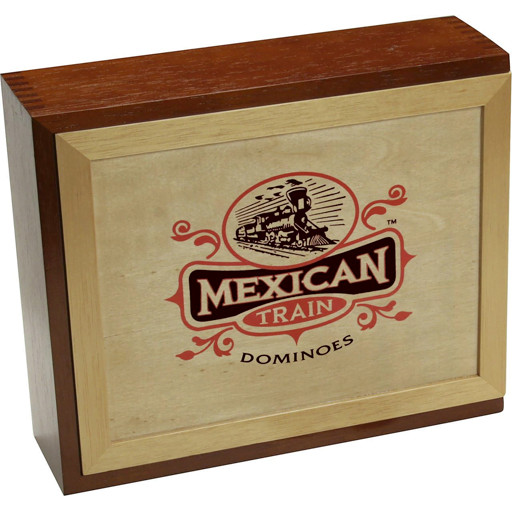 Mexican Train Dominoes from Front Porch Classics is a popular game sometimes known as "Trains"
Players work to dispense all the dominoes in their hand by playing them onto one or more "trains" emanating from a central hub
Suitable for 2 – 8 players ages 8 and up, Mexican Train Dominoes makes a wonderful gift
Felt-lined wood box with sliding top stores a set of double-12 color-dot dominoes, 8 cast metal trains, and solid wood train station and score pad
Front Porch Classics offers "unplugged family entertainment" that brings people together through play

At Chesspert, our passion for the game goes beyond strategies and moves. We're dedicated to providing enthusiasts with comprehensive insights into every facet of chess. Whether you're in the market for premium chess sets, intricately designed chess pieces, or precise chess clocks, our curated collections
---
Affiliate Disclosure
Some of the links on Chesspert.com are affiliate links. This means that we may earn a small commission if you click through and make a purchase, at no additional cost to you. Please note that our product reviews and roundups are independent, and the affiliate relationships do not influence our content in any way.
Chesspert.com is a participant in the Amazon Services LLC Associates Program, an affiliate advertising program designed to provide a means for sites to earn advertising fees by advertising and linking to Amazon.com.
Amazon and the Amazon logo are trademarks of Amazon.com, Inc. or its affiliates.
---
Our love for board games transcends beyond the chessboard. We're here to be your friendly guide into the captivating worlds of not only chess but also backgammon, dominoes, mahjong, checkers and more.
Whether you're on the hunt for the perfect chess set, eager to explore the strategic depths of backgammon, or looking to immerse yourself in a thrilling game of mahjong, we've got your back. Our platform is a vibrant space where curiosity meets knowledge, and fun meets strategy.
So, why wait? Dive into our rich repository of guides and reviews, and discover the joy and excitement that board games bring. From intricately designed game pieces to the perfect accessories that enhance your gaming experience, we're here to help you navigate through it all with ease and joy.
Join us and let's celebrate the timeless allure and camaraderie these games foster, one post at a time!